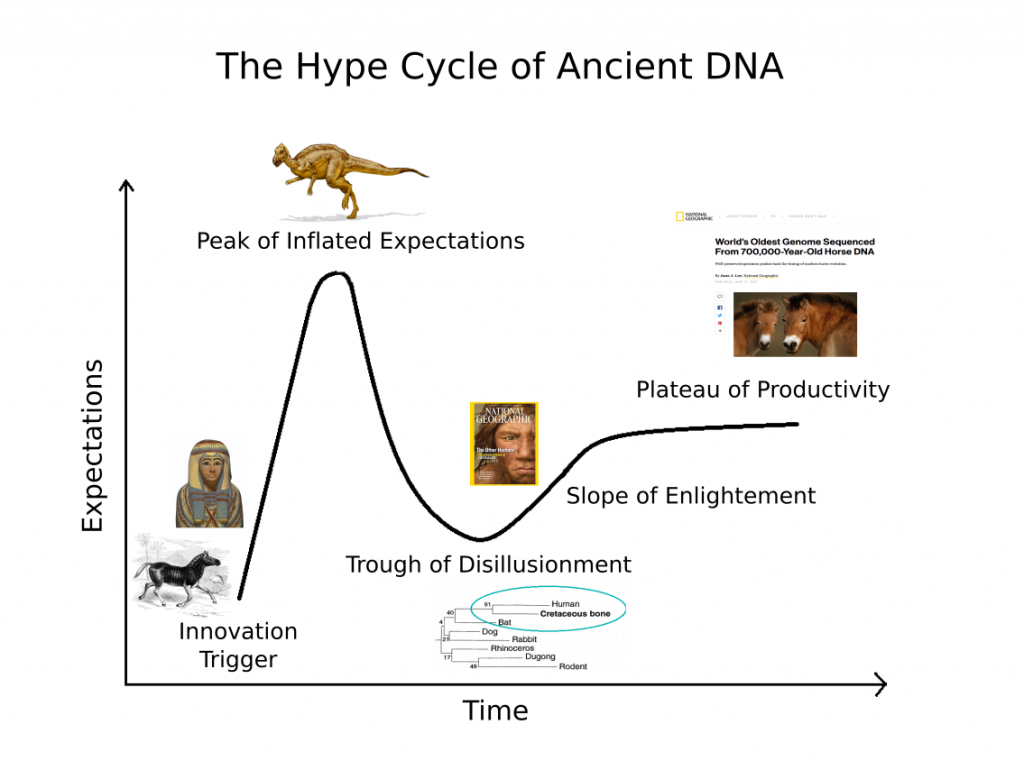 Recently I saw a graph that I've learnt is called the Hype Cycle and is a methodology used in assessment of new technologies and their marketing. What strikes me about it is how well it fits my own research field, paleogenetics or the ancient DNA research.
The Hype Cycle is a graphical tool developed by Gartner, an information technology research and advisory company based in Connecticut. The Hype Cycle depicts five phases of evolution of a new technology, concentrating on the relationship between hype and real adoption of the technology.
Phase I: Innovation Trigger
A potential technology breakthrough kicks things off. Early proof-of-concept stories and media interest trigger significant publicity. Often no usable products exist and commercial viability is unproven. (© Gartner)
It's not difficult to identify what was the Innovation Trigger in ancient DNA. The origins of the field trace back to mid-1980s when reports of DNA from quagga, an extinct equid, and Egyptian mummies were published.
While the first study, on a 120-year-old quagga (Higuchi et al. 1984), came from the lab of the prominent evolutionary biologist Allan Wilson, the work on Egyptian mummies (Pääbo 1985) was done by then a PhD student, Svante Pääbo, as a secret side-project. Later, Pääbo went to Wilson's lab and the collaboration of these two men yielded some outstanding studies, regularly occurring in Nature.
Phase II: Peak of Inflated Expectations
Early publicity produces a number of success stories — often accompanied by scores of failures. Some companies take action; many do not. (© Gartner)
In the following years, the world has seen DNA sequences of the Tasmanian wolf (Thomas et al. 1989), New Zealand moa (Cooper et al. 1992), and the woolly mammoth (Hagelberg et al. 1994) resurrected, but the scientists didn't restrain to studying animals. Ancient DNA has been also retrieved from plants, e.g. maize (Rollo et al. 1988), and (fanfares) humans (Hagelberg et al. 1989).