Figure modified from Darwin (1837), Haeckel (1866), Woese (1990), Hug et al., (2016), and Weiss et al., (2016) 
One persistent question has always been: where did it all begin? What was the origin of the complex life that we have today? What happened billions of years ago that resulted in beautiful giant manta rays, magnificent Sequoias, and even humans that are incredibly adept at posting cat videos on YouTube?
Ever since the phylogenetic tree was sketched by Darwin in 1837, there has been a search for how life on this planet is connected, and relatively recent advances in sequencing (not to mention how affordable it all is now-a-days) has led to revolutionary studies detailing relationships among extant organisms. It seems that we might be one step closer to painting a picture of the habitat of the last universal common ancestor, or LUCA. Originally, it was thought that LUCA represented the ancestor of bacteria, archaea, AND eukaryotes, although more recently it looks like eukaryotes actually arose from the bacteria and archaea.
In an article out this week by Madeline C. Weiss and co-authors, (which is unfortunately not open access) they reveal an analysis of over 6.1 million protein coding genes from currently available prokaryotic genomes to gather clues in order figure out what the habitat / lifestyle / microbial ecology of LUCA might have been.
Figure 1. Weiss et al., (2016)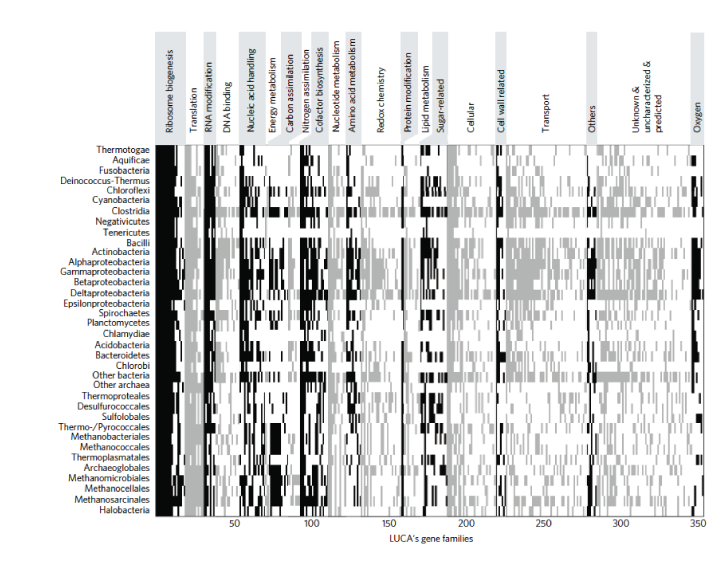 Figure 2. Weiss et al., (2016)
The study identified 355 protein families from 286,514 protein clusters that they determined were likely in LUCA's genome. While it's tricky to account for confounding factors such as horizontal gene transfer, which might have swapped genetic info around over time, the genes included in this theorized version of LUCA indicate that this organism was anaerobic, fixed CO2 and N2, was dependent on H2, and thermophilic, not to mention required cofactors that depended on a variety of molecules including transition metals, coenzyme A, ferredoxin, and selenium.